Pharmacy Tech Business Math
Question Example

---
A wholesaler your pharmacy orders medical devices from has a policy of offering a discount on invoices paid in full, within 5 business days of receipt. The discount is 10%, or 15% on orders over one thousand dollars. On Wednesday July 6, an order totaling $1,489.36 was received. Accounting electronically paid the invoice the following Tuesday. What amount should they have paid?

A. $1,489.36
B. $1,340.42
C. $1,265.96
D. $1,305.69
How to solve:

1) The first issue to determine in this question is if the bill was paid within the 5 business days.
Business days are weekdays that don't fall on a federally designated holiday.
So, let's look on a calendar to see if accounting paid in time to get the discount:

2) The question states the discount will be 15%, since the order is OVER $1,000.

On a calculator, figure out what 15% is.
Always round up to the nearest cent during this type of calculation.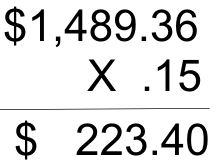 3) Subtract the 15% discount to get the answer.

---
Where would you like to go now?
Copyright © 2010-2018 - pharmacy-tech-test.com - A secure website encrypted by Transport Layer Security (TLS)
All rights Reserved - Pharmacy tech study website only - NOT to be used as a reference for patient care.